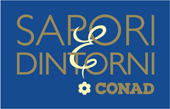 Underground Floor
shopping gallery
Food | Supermarkets
Sapori&Dintorni
​Sapori&Dintorni Conad is the first store dedicated to food excellence in station.
Here you can discover the pleasure to live a feast of flavors and lose yourself in the exclusive traditional cuisine.
A lot of selected products made with raw materials and traditional methods are waiting for your tasty break.