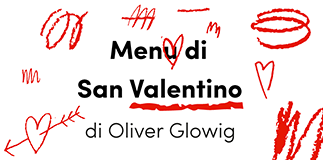 Mercato Centrale Roma: Valentine's Day dinner.
Special menu for lovers.
​The awarded Chef Oliver Glowig proposes at Mercato Centrale a delicate menu made of classy specialties to celebrate the most romantic night of the year. The dinner costs € 58 for each person. Send an email to info.tdv.mercatocentrale@gmail.com or call the 0692949916 for further information or bookings. Would you come? We are looking forward to seeing you at Ala Giolitti.